Child Benefit Case Study
A Northern Ireland couple with a 17 year old son have moved to Buncrana in Co Donegal.  The husband has recently become unemployed and their son continues to attend school in Northern Ireland.  The couple wish to know their entitlements with regard to benefits and health services and how the move will affect their child's education.
Can their son continue his education in Northern Ireland now the family is living in the Republic of Ireland? He has a part time job in Northern Ireland but will the change in residency affect his entitlement to receive the Educational Maintenance Allowance (This is a payment which is usually made available to students in Northern Ireland aged between 16 and 19 who are continuing their education)?
Your son will be able to continue to attend the same course in Derry/Londonderry, there are many children resident in the Republic who attend school in Northern Ireland.  Whilst places at public funded schools in the North should first be offered to children resident in Northern Ireland the place on a course he began when resident in the north should not be at risk.  The Department of Employment and Learning in the North have indicated that only Northern Ireland/UK resident children can qualify for EMA.  If your child lives independently in the north he will be individually assessed for EMA on the basis of his income.
Should the family now make a claim for Child Benefit to the authorities in the South?
If neither you nor your husband are employed in Northern Ireland, and you are not receiving any contributory benefits from the UK, then you are no longer entitled to any family benefits from there, including Child Benefit.  You will be entitled to Irish Child Benefit at €140 per month for any child aged under 19 in full-time education.  It does not matter that your son's education is undertaken in Northern Ireland and the fact that you are no longer entitled to UK Child Benefit is irrelevant as regards to his education in the North.
Can the family still access the NHS in Northern Ireland?
You are no longer entitled to access the NHS in the north on a routine basis because of your change of residence. However, if you are only receiving means-tested benefits in Donegal your family should be entitled to an Irish medical card from the Health Service Executive in Donegal.  This will allow you to avail of free public healthcare in Donegal, including GP visits and most medication.  You can get an application for an Irish medical card from Buncrana Citizens Information Service, phone 076 107 5490 (From ROI) +353 76 107 5490 or you can download the form here
Updated August 2017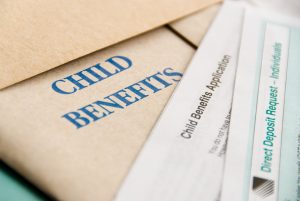 Case Study: Avoiding the child benefit tax trap
James (33) and Tanya (28) have a son, Paul who is 3. James is an editor at his local newspaper and has a salary of £60,000 p.a.
Tanya looks after Paul and earns £6,000 p.a. working part time at a coffee shop. At the moment they receive Child Benefit of £20.70 p.w. (£1,076 p.a.) but since James' adjusted net income is over £50,000 p.a. he will need to pay a tax charge calculated as 1% of the Child Benefit received per £100 his income is over £50,000. James' adjusted net income is actually £10,000 higher than the threshold so the tax charge is equal to the amount they have received (£1,076, equivalent to 10.76%).
James & Tanya have two options:
Stop claiming Child Benefit
Reduce James' adjusted net income
One way that James could reduce his adjusted net income to below £50,000 (and avoid the tax charge) would be to make a personal pension contribution. Tax relief at 20% (basic rate) is added to the contribution by the government so a payment of £8,000 net would be worth £10,000 in his pension. As a higher rate tax payer he can obtain a further 20% relief on the £10,000 gross contribution (£2,000).
James' adjusted net income is reduced by the value of the gross pension contribution (£10,000) from £60,000 to £50,000. This means that he does not now have to pay the High Income Child Benefit Tax Charge.
Summary
If James does nothing he will have to pay a tax charge of £1,076.
If he makes a net contribution of £8,000 before the end of the tax year (5 April ) he will end up with:
£10,000 in a pension growing free from most taxes
£2,000 reduction in his income tax liability
£1,076 reduction in other taxes.
Simply by doing this James has increased his wealth by £5,076 – a 63% return on his £8,000 net pension contribution.
N.B. This return only considers the initial tax benefits and does not consider the longer term benefits of making pension contributions. Couples with more than one child can potentially have an even greater tax trap.
Themes: Pensions, Tax Optimisation